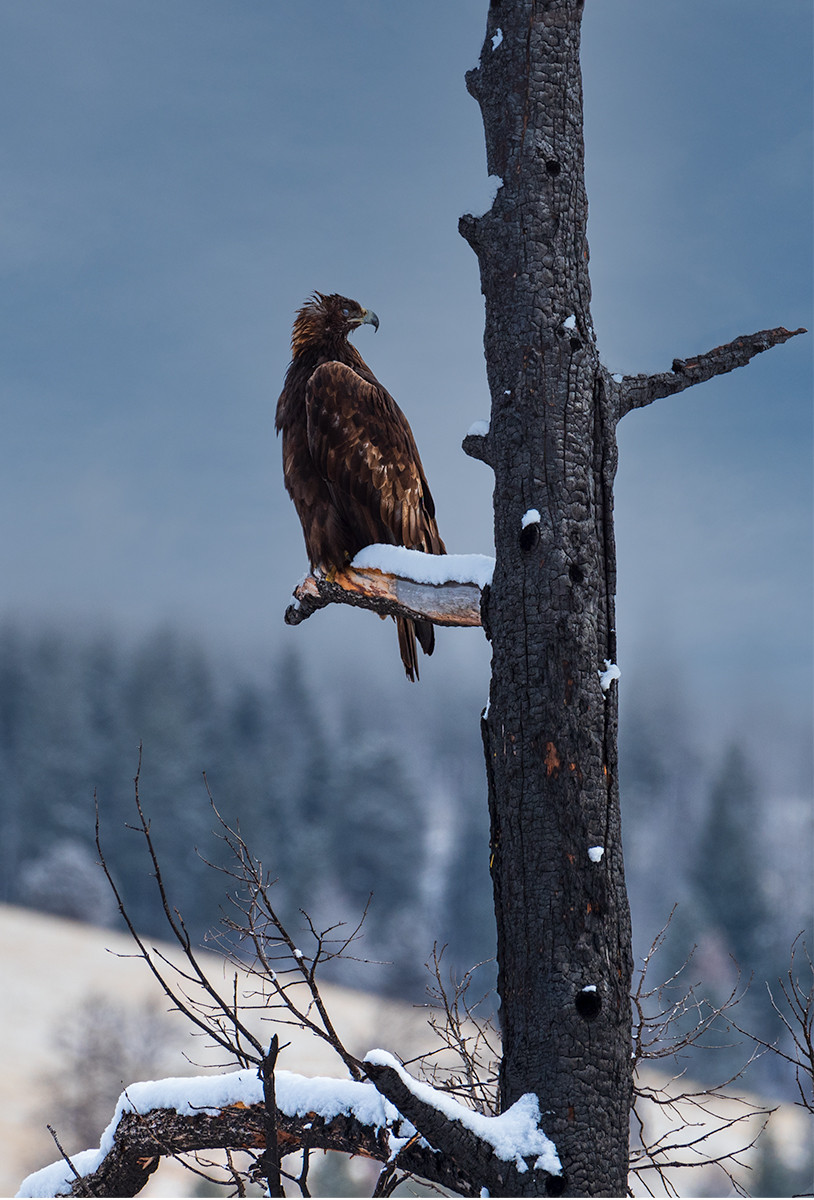 location: starr ridge
season: winter
moving to eastern oregon rekindled my passion for winter. the snowscapes in the portfolio (road's end, fall bows to winter, winter brilliance, tree spirit) reflect my fascination with how snow influences a scene. i enjoy landscapes in other seasons and, sometimes, it feels like just practice, waiting, maybe impatiently, for first snowfall.
the brilliance of colors, even in desert country, amplifies everything, especially under blue skies and sunshine or a full moon. the contrast between pure, crystalline white and everything else is illuminating.
not all winter days are like that. this photo represents those other grey, cloudy days, of which there are many.
on this day, i was heading to a favorite ski spot 12 miles from home.  the snow had been marginal for skiing for awhile and i was needing to get out.  while driving, the temperature started to rise and the snow was looking poor. i noticed a little grumpy arise.
there's a series of switchbacks going up to starr ridge that are sketchy with snow and ice. slowly making my way up, i came around a tight curve to see four golden eagles perched in burned snags, right next to one of the few turnouts in several miles.
i pulled over. they didn't budge. unusual.
i rolled down my window. they stayed put. also, unusual.
i asked if i could take their photo.
i heard, one each.
snapped four photos and they took off.
this photo is one of those occasions where all the usual rules don't apply: light was poor; the birds cooperated, even posed; i was a few feet away sitting in my warm truck. i've driven this road many dozens of times over the years, rarely seeing anything worth pausing to take a photo. even a grey, winter day in a very common place can present a wonderful opportunity if we show up.
i continued on to ski starr ridge.  the snow wasn't great. the grumpy wasn't noticeable.
some days are like that.