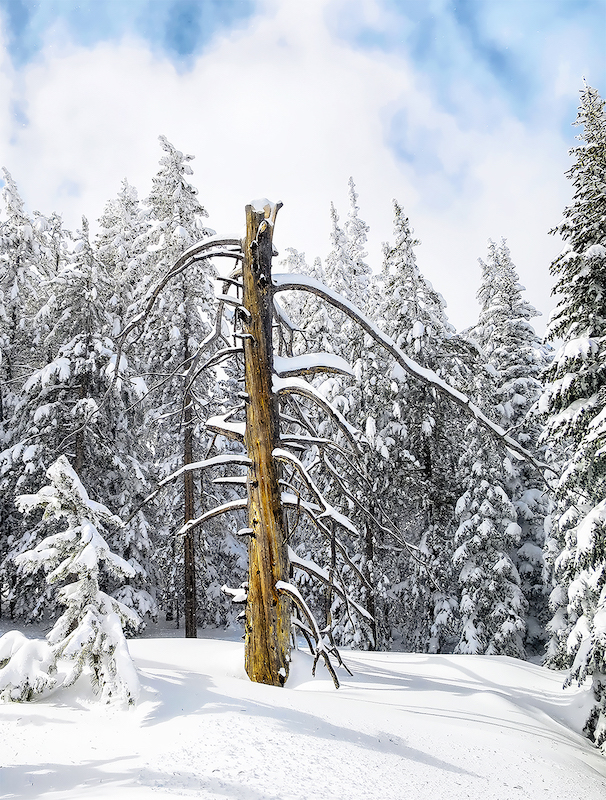 location: strawberry mountain wilderness
season: winter
backstory: i'm quite fond of tree snags, of which there are many in the forested mountains around the region. there's something about them that draws my attention like a magnet. it's almost as if they have a personality, an aura that calls out, maybe ghostly. when i see one in the distance i'll ski way out of my way to go meet it.

i have hundreds of photos of tree snags, which, when reviewed at home, simply look like dead trees. somehow the subtle energy felt in the moment doesn't transfer thru camera to ink and paper.

this one is different.
i do a lot of cross country skiing in and around the strawberry mountain wilderness area where i draw much inspiration for the winter photos in this portfolio; see al piste, road's end, winter solstice at allen creek.
skiing here is not like developed ski areas in other areas. i call it back road skiing. the snowmobile club grooms some forest service roads that can be skied. there are lots of other possibilities for off-trail, backcountry ski trips. no signs. no set trails. generally, no people. yes for cougars, wolves and occasional avalanches.

on this trek i decided to take a shortcut off-trail, bypassing the longer, winding, switchback groomed road up to elevation, and then past the wilderness boundary, along skyline ridge and circling back. at half the distance it seemed like a good idea looking at the map.
half the distance took three times longer and the steep climb straight up the ridge, sidestepping much of the way, left me past exhausted when i crested the ridge. where i encountered a very stiff sustained north wind in a fully exposed area that brought a snow squall every 20 minutes.
scrambling, i sought out some kind of cover from the wind just to catch my breath. skied through 18" of fresh powder to a small group of trees and hunkered down for a few minutes and proceeded to form a plan that would get me safely back to my rig. it wasn't quite time to call search and rescue; urgent signals were getting started.

when i looked around, this was the scene.
i pulled out my small, lightweight point and shoot camera i ski with, took a few photos, hardly looking through the viewfinder. this was a moment i realized i was a nature photographer. even in the middle of a sketchy situation, the internal artist was aware of the beauty in the moment and responded.
i seem to have a knack for getting into these kinds of situations.  i don't do it purposely just to get a good photo.  there does seem to be a consistent correlation between degree of difficulty of the trek and quality of the photo.
although tree spirit speaks loudly to me, possibly because of the above adventure, this photo has generated many positive comments. it was awarded grand champion (best in show) at the 2019 grant county fair.