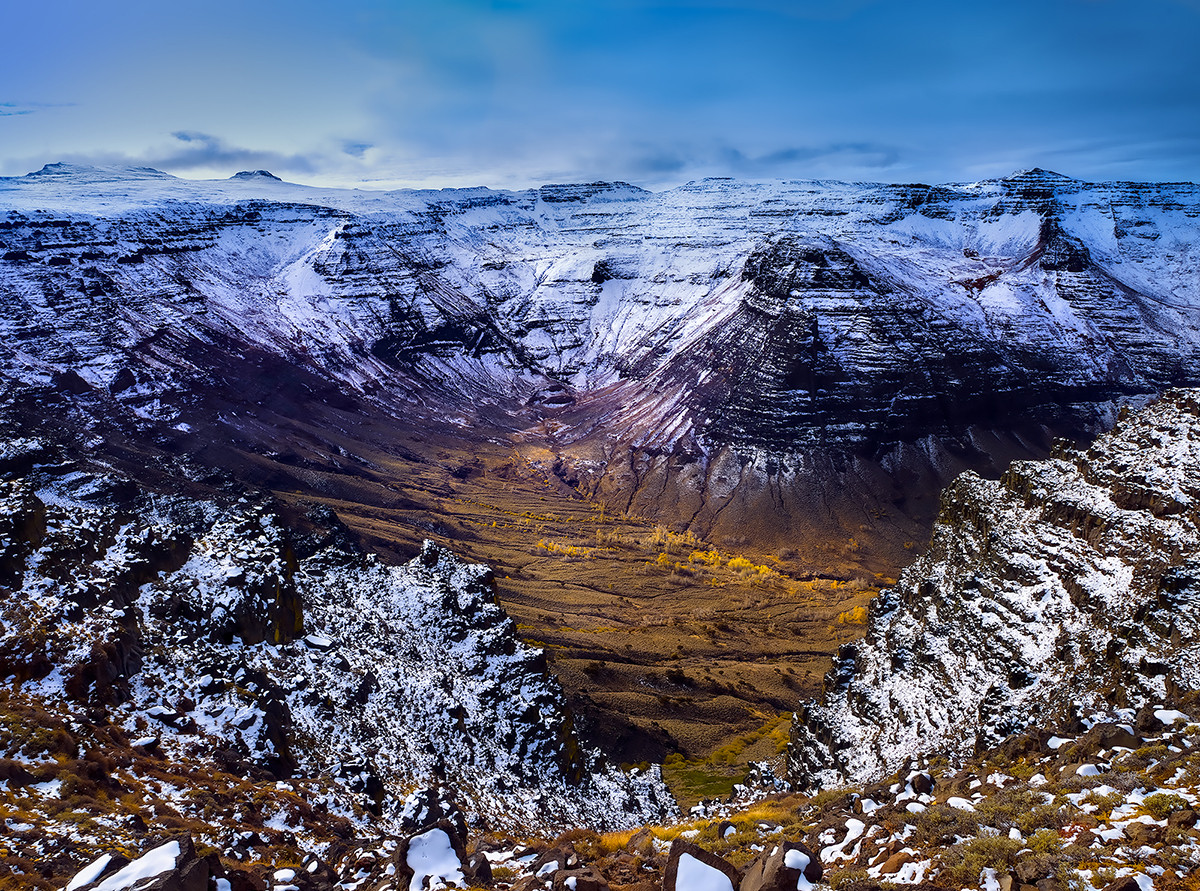 location: steens mountain
season: late fall
backstory: this was my first extended trek into the steens.  end of fall, beginning of winter provides some interesting contrasts.  i learned a lot about this mountain range, photography and myself over six days during some shifting and turbulent winter weather.
this scene called out as i was preparing to leave.  i was pretty tired. didn't feel i got any great shots. still struggling with some technical details of the camera.  also, struggling with how to express the spirit and energy of this special place.
the steens are unlike many other mountains. rather than one main focal peak it is a range that runs 20+ miles north to south.  edging up to the 10,000' ridge are three 3,000' gorges running east to west and two more running north to south.
it is a challenge to encompass some small part of this terrain in a camera frame, no matter how many megapixels the sensor may have.
after waking at 4am and spending pre-dawn thru early morning on top of the ridge, i headed down a snowy gravel road toward french glen and home. something called out from the peripheral edge of vision.  overcast skies that set in after dawn were beginning to break up. immediately stopped the rig, gathered camera gear, started walking thru high desert mountain snow and sagebrush. it's a lovely combination.

aimlessly wandered around quite awhile, listening, looking, awaring the moment until rounding a ridge and down a ravine this scene appeared, framed by rocks and snow in a completely natural way.
at the moment i didn't know if it was a good photo, just that the natural framing was amazing. after returning home and first edit, i realized i had finally received a photo that expressed the spirit of the large, panoramic landscapes that define this region. this was the result of four years of practice.
realizing i could take these kinds of photos, i upgraded to a much more powerful computer system and software that could handle the intense editing demands required.
afterward: since this photo, i've wandered many edges of all the gorges in the steens, free climbing rims and down into the river valleys.  i've yet to find a natural frame as interesting as this.  thought it would be interesting to take photos at different seasons or at night in the same location, same framing.
i haven't been able to find it.
and it is not for lack of trying. 

it is a pretty contained area to have the angle and perspective of the blitzen river headwaters shown in this photo. within this area, the edge of the gorge is miles of rough walking with many rock outcroppings and ravines. over several treks, i've hiked many hours and many miles back and forth where this spot has to be.

as of this writing, still haven't found it.