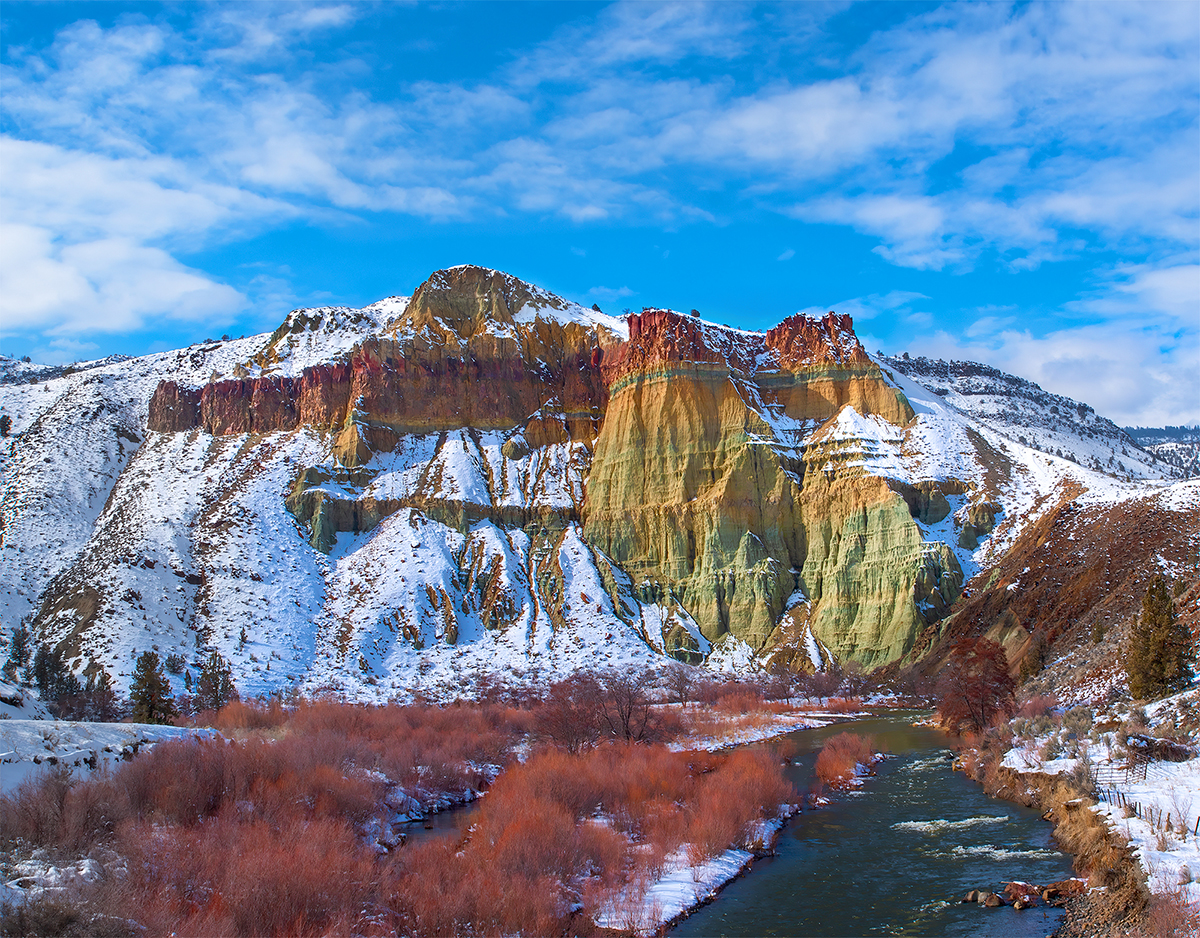 location: kimberly, oregon
season: late winter
backstory: cathedral rock was one of my initial photography muses in this area. that first drive down hiway 19 thru condon, fossil & spray felt like entering another dimension.  when i came around the curve and saw cathedral rock it felt like a gong reverberating in my head. it hasn't stopped since. the popular name may be cathedral, it is a temple to me, a dojo, a sacred place to practice awareness.

this muse inspired, pushed, teased & demanded i embrace the photographic creative process, if only to create one image that did this place honor, to make something beautiful.
it took awhile.
during a six year process i made over three dozen pilgrimages here, thru each of the seasons. kayaking down, then wading thru the river. at dawn, at sunset.  wandering under a summer full moon. scampering up hillsides & across scree. bushwacking thru 10' tall weeds. looking at each angle.  listening to the wind, river and desert sounds. each time i learned something new.  each time, a little closer to one clear image.
it doesn't snow here often.  when it does, it usually doesn't last long.  this storm was different.  perched on a steep slope, thigh deep in snow, i waited several hours for the right combination of sun, clouds and shadow.
the muse smiled. grasshopper had learned something.

and...there are several more scenes calling.
Comments (6)
thank you for your comment. seems like a worthy endeavor to pursue. what is there to do, really?
Mountains can be tough to shoot in order to really get what is there. Cameras are so small. Ansel Adams worked at it for years.
All I can say is "WOW." What a great shot.
Nice and decorous. Being there is the treat.
thank you for your comment. this was one of my first teachers. a dozen trips over several years. 2 1/2 hours in knee deep snow for the light. seems totally worth it.
How long did you wait for this light? Great colors. Looks so much bigger than it actually is. Want to just sit there and stare at it.