as the creative process of this nature photography has unfolded, it naturally led to making rustic frames. i chose this style because it fits the feeling of the photo and the location in nature where the photo is taken.
these frames are rustic compared to fine woodworking or commercial frames. see examples below.
while fine woodworking and commercial are beautiful in their own ways, there is not much in nature that i find that is the smooth, polished, perfectly straight lines reflected by these frames.
nature is rough, sometimes very rough, around the edges. it means the corners are not always perfectly aligned, and sometimes the wood is just a little warped. there can be flaws, scratches and a gnarly knot in a very interesting place.
i think it gives the frame character in a way that complements the photo.

examples of frame details can be seen here.

...and definitely no glass. in nature, there is no glass separating us from the scene. i find the glare to be distracting from the image.
this process has led me to making custom rustic frames without glass.
the wood is either salvage (recycled, barn wood) or locally cut and rough milled pine, fir, tamarack or juniper. the supply of these woods is variable and my inventory changes frequently.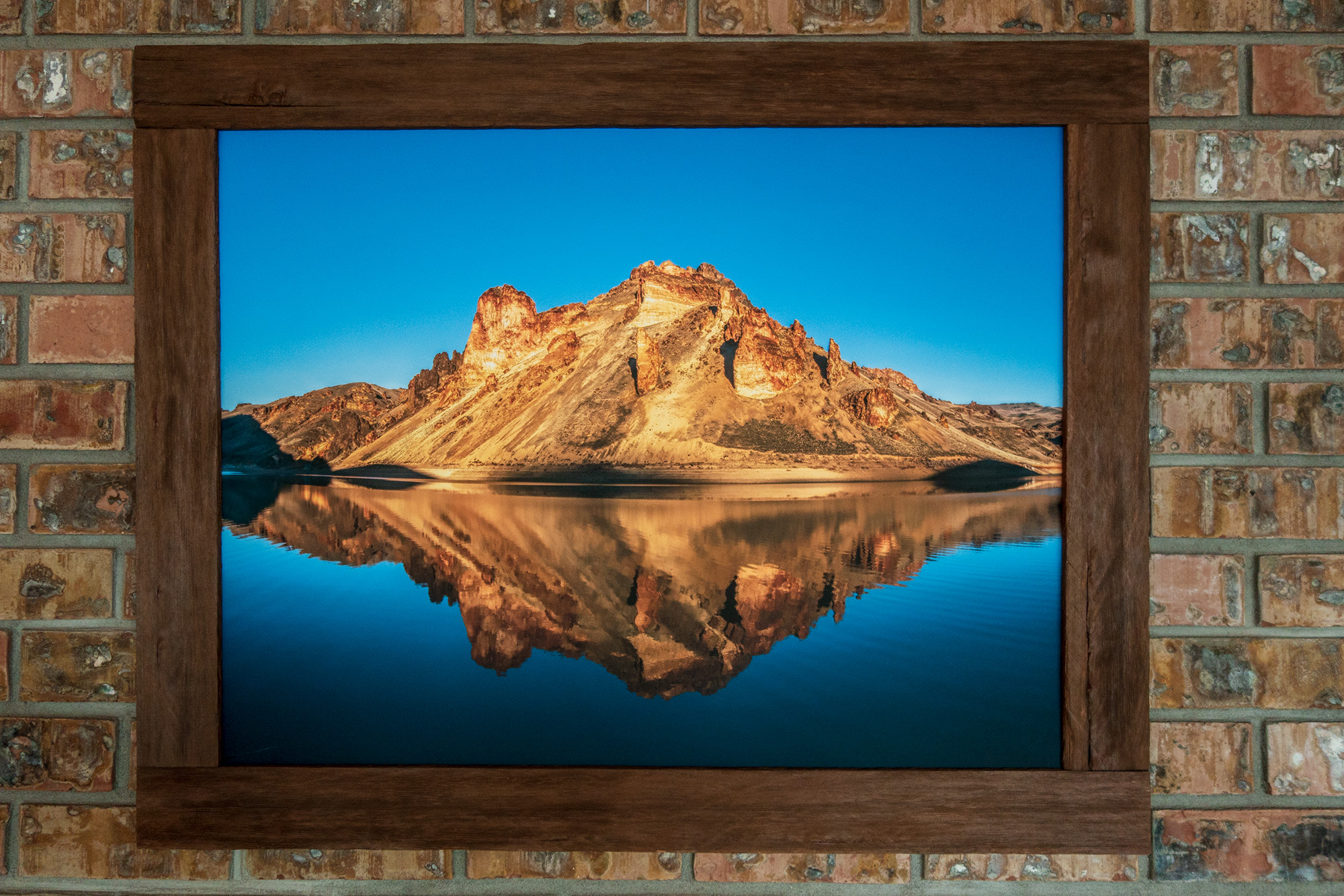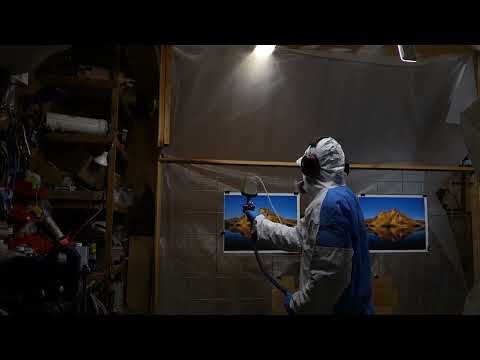 choosing to not use glass led to a spray varnish coat that provides some protection from abrasion, moisture and uv light, although not as much protection as glass. this is a very fine tuned, precision process using a hvlp sprayer that leaves a thin, transparent layer.

the video at left shows this spray varnish system in action.
i choose the wood, treatment, and stain based on the colors and texture of the photo. it is a matching process of finding the right grain, character, color of wood/stain that will complement the photo, become a part of the subject.
examples of different types of framed photos can be seen here.
salvage wood has it's own natural weathered/aged look that varies quite a bit. with rough milled lumber, i use some combination of grinding, propane torch burn, oxalic acid and stain for different shades of color and darkness. some frames finish with tung oil or satin wax.

this process is different for each frame and leads to a very unique look.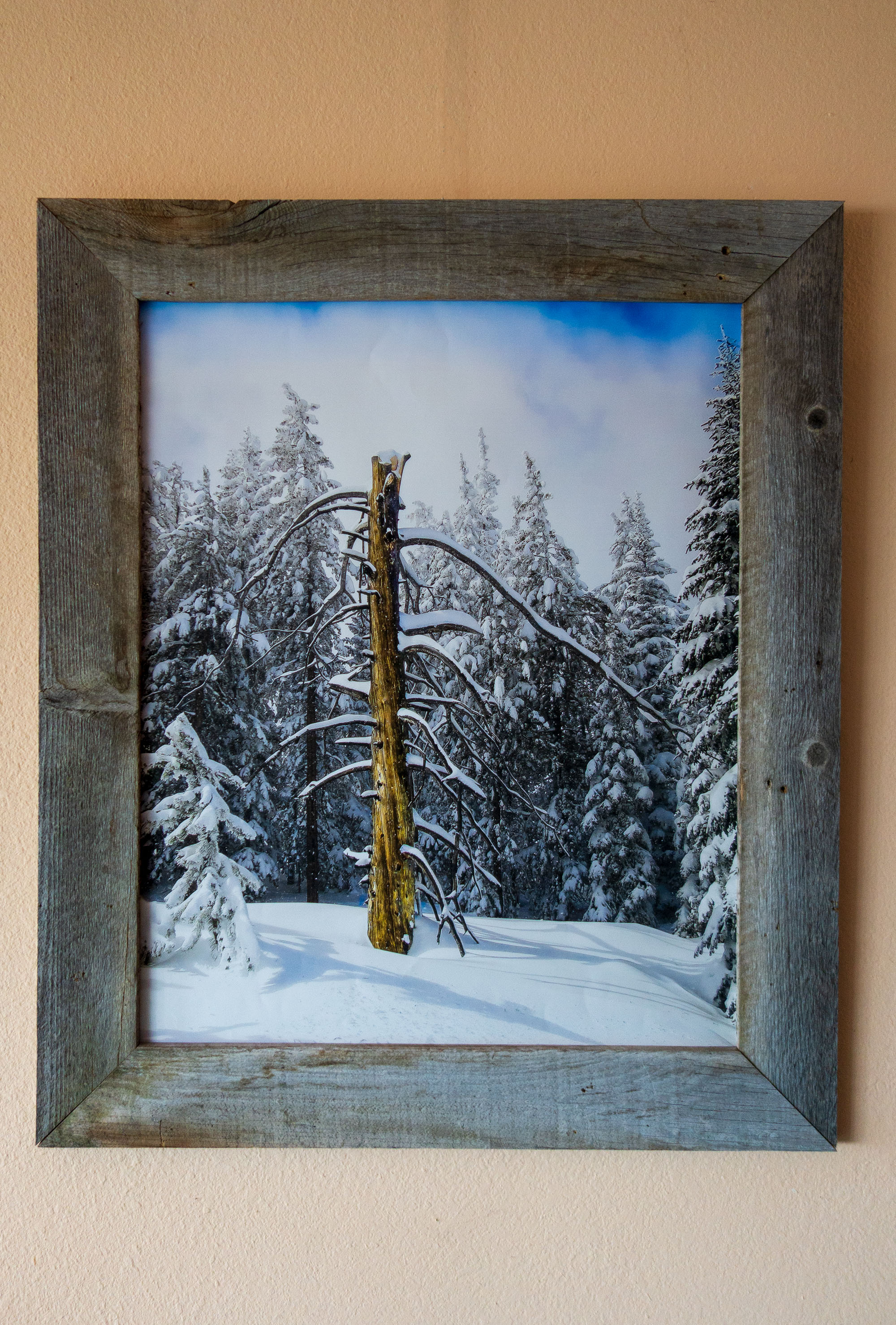 most of all, i'm aiming for a finished look that has character, not the smooth, clear grain look of commercial lumber. something that has the same rustic, rough and interesting qualities that draws me to these places in nature. this means putting a little extra effort into the frame making process, similar to the extra effort to find these places, and print with the best ink on high quality paper.
if you are interested in a rustic framed print, display prints can be seen in person by appointment at my studio/gallery, more information here.